The idea took shape in October of 2014 when a few passionate cyclists from a large local cycling team realized that even with the size and growth of their club, the numbers still weren't there to support an exciting youth program. Surely other teams had come to the same realization? Soon thereafter, about twenty representatives from cycling teams, clubs, and non-profits in the Baltimore region sat down at the Life of Reilly pub to chart a course for Baltimore Youth Cycling.

Guided by the experiences of other communities, such as Louisville, KY and Cincinnati, OH, who rallied around youth programs to re-imagine their cycling community, the newly-formed steering committee got to work spreading their excitement. The ground work they laid over the next months culminated in a large cycling community meeting at De Kleine Duivel on Jan 18th where Joe Nalley presented the formative work and nominated Board of Director candidates for a vote by the community.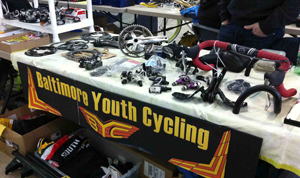 Continuing the whirlwind, the next step was to incorporate BYC as a 501(c)(3) Non-Profit, which was accomplished thanks to the amazing generosity of our cycling community. Bike equipment donations towards a table at the Stop, Swap and Save swap meet enabled BYC to fund these formation costs. Thanks again to you all!

As we continue to build the program into year two, your Directors are actively refining all the signature programs that set BYC apart and create an amazing resource for our region's cycling community:

Our Shop Partners play a huge role, and made our stable of Rookie loaner bikes possible!

Our Team Partners continue to step up and assist in Coaching and volunteering at practices.

Baltimore County Recreation and Parks is a huge friend to the program, allowing us access to three awesome practice sites!

Meadow Mill Athletic Club has partnered with us to provide an indoor spin studio for our use!

We are searching for a special Local Corporate partner! BYC would like to work with a local company that has a stake in our region and values our mission to get kids active and healthy in a sport that can be a part of their life throughout adulthood. Please help us find this special partner!

BYC is guided by a Board of eleven Directors and a Staff of Coordinators, including Coaches. The Directors are elected each year at the Annual Meeting of the membership in January or February. The Directors then appoint Coordinators to handle delegated roles as they see fit. All of these positions must be Adult Members of BYC for the year they are elected/appointed (exception Rider Rep), which will require a background check that is paid by the prospective member as their Membership Fee.

For complete information on BYC's structure and function, review our Bylaws.

BYC 2016-2017 Board of Directors
Operations Director (President) - Mike Marinaro
Parent Director (Vice President)* - Mita Vogel
Sponsorship Director (Treasurer) - Jeff Dalik
Equipment Director - Adrian Alday
Shop Director** - Jon Posner
Member at Large - Amanda Helt
Member at Large - Chris Cosper
Member at Large - Katie Gore
Member at Large - Melissa Ekey
Member at Large - Ron Howard

* Must be parent of BYC rider ** Elected by Shop Partners